I've been riding this bike for a few years now, it is easily the funnest rig I've had out on the trails. So last month when I started considering bike upgrades I forced myself to make a decision; new bike or bike rebuild. I couldn't just ditch my old faithful, a bike I had become so accustomed to and attached with. I loved it. So the decision was made to do a complete bike rebuild, I would build my perfect trail weapon using the best components my wallet would allow. My dream bike.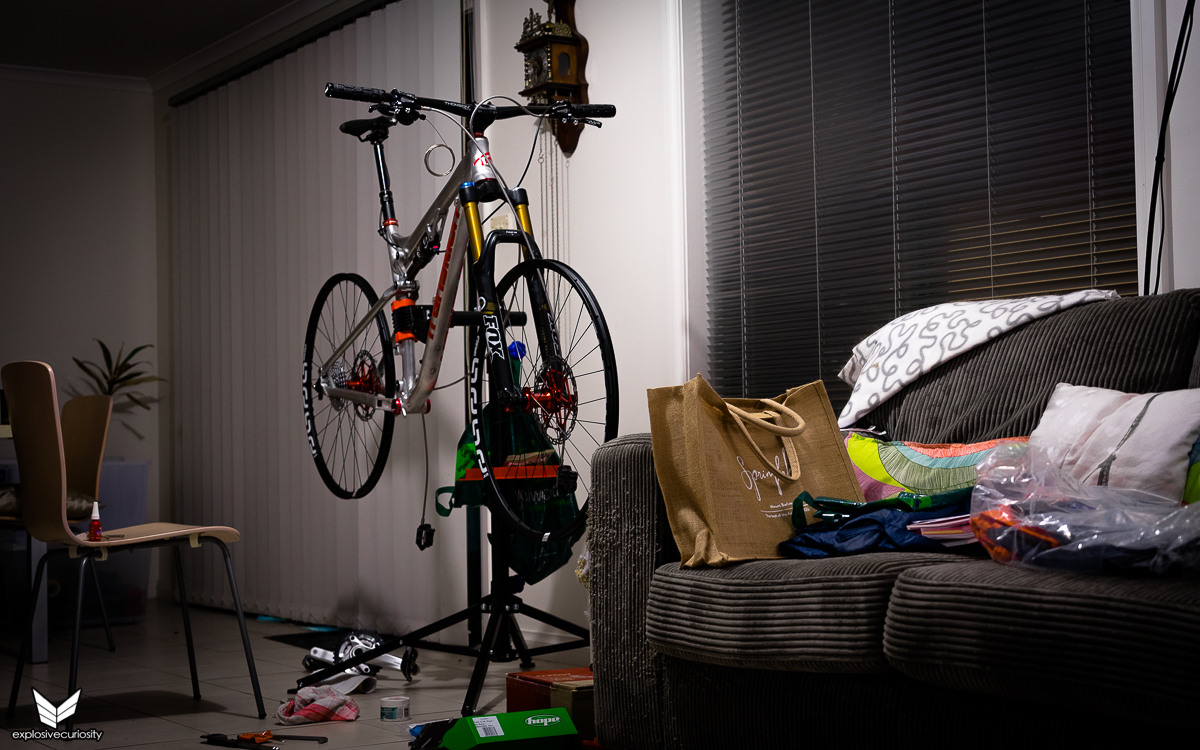 So it began, the Bandit went up on a stand in the lounge room and was completely pulled down. I stripped the paint and got all the frame pieces back to raw alloy. I had planned on painting it black, but after seeing how it looked raw I opted to keep it this way. I gave it a quick and rough polish job with some course grit sandpaper, then with some finer grit paper, and then finished with steel wool. The old bearings, one of which was seized up, were pressed out and brand new ones put back in. A brand new Transition pivot kit replaced all the old bits and a new Transition decal set was applied to the frame. All this will ensure the frame will pivot and move like a brand new one. Once all of the components arrived it was time to start building the bike.
Starting up front I have a HOPE Pro 2 Evo hub. Bolted to these are HOPE 203mm floating rotors which are stopped by a set of massive 4-piston HOPE Tech 3 V4 brakes with braided brake lines.
Attached to the hubs through DT Swiss spokes and nipples are a pair of E-Thirteen TRS+ 29″ rims. On these I put Schwalbe Hans Dampf tyres in a 29×2.35″ size.
Out the back again is a HOPE Pro 2 Evo hub with HOPE rotor and brakes. Doing the gear changing is a Shimano XT derailleur, shifting a Shimano XT chain over a Shimano XT 11-36t cassette.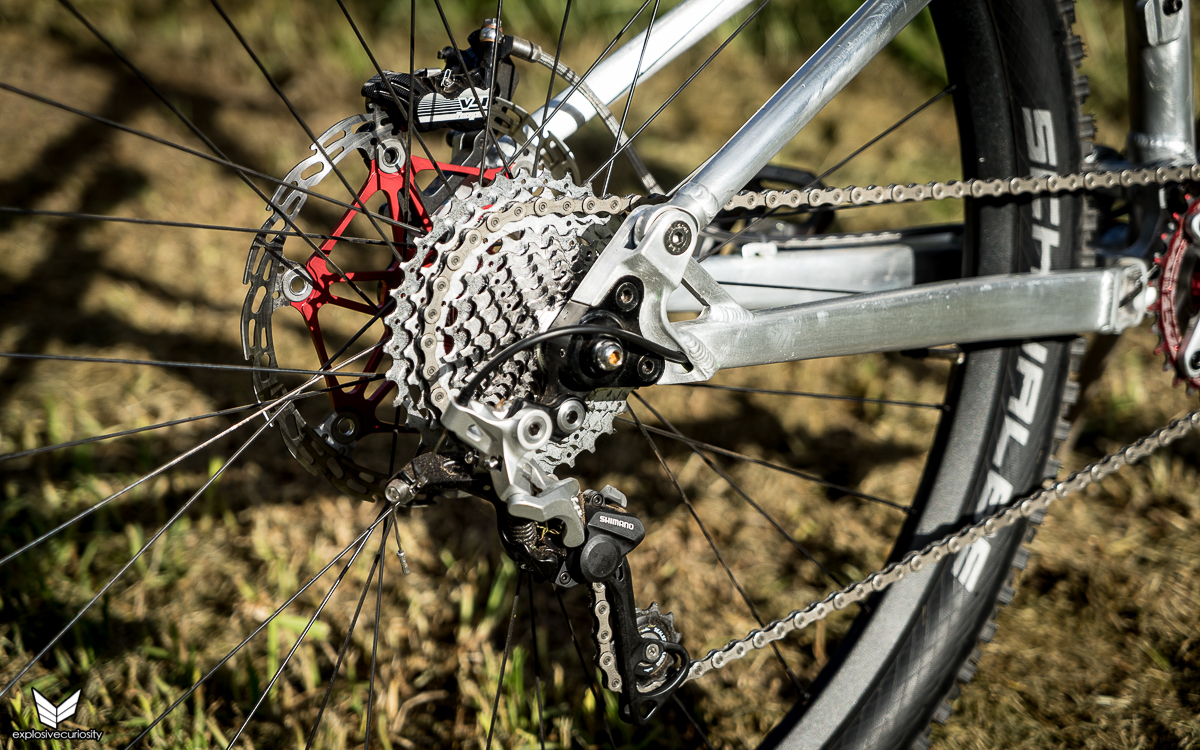 Driving it all will be done through a Shimano XT forged aluminium hollowtech crank set with Shimano Saint pedals. Also in there is a Chris King bottom bracket. I'm running a 1×10 setup with a Race Face 32t Narrow Wide chain ring.
Moving up to the cockpit I have a nice set of Thomson Trail carbon fibre bars. These are held in position by a HOPE AM-FR head stem.
A Chris King tapered headset and HOPE spacers ensure buttery smooth steering.
HOPE Tech 3 levers and a Shimano XT shifter take care of the controls. The grips are nice comfortable ODI lock-ons.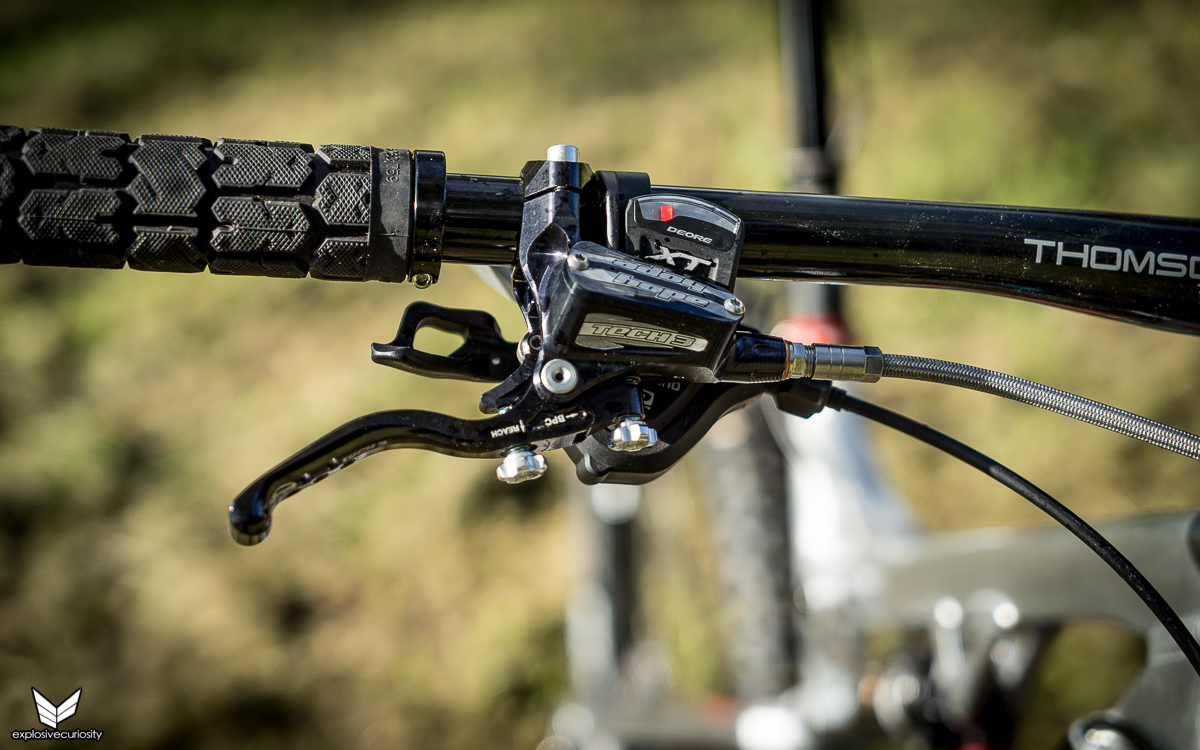 And lastly, a Selle Italia saddle makes for a comfortable place to sit. Mated with a Rock Shox dropper post for ultimate riding convenience, and held in place with a HOPE seat clamp.
---
All these components came together to form my perfect trail bike. I managed to shave over a kilo off the original build spec which will make climbing and throwing the bike around a little easier. Before hitting the trails the front FOX suspension forks and rear FOX shock were given a fresh service to ensure they rode like new. Riding the bike shortly after finishing it was amazing, hitting the trails I had a smile from ear to ear. The bike was everything I wanted it to be, it felt incredible. Much more satisfying than going out and purchasing a brand new bike, this one will last me well for many more riding years to come.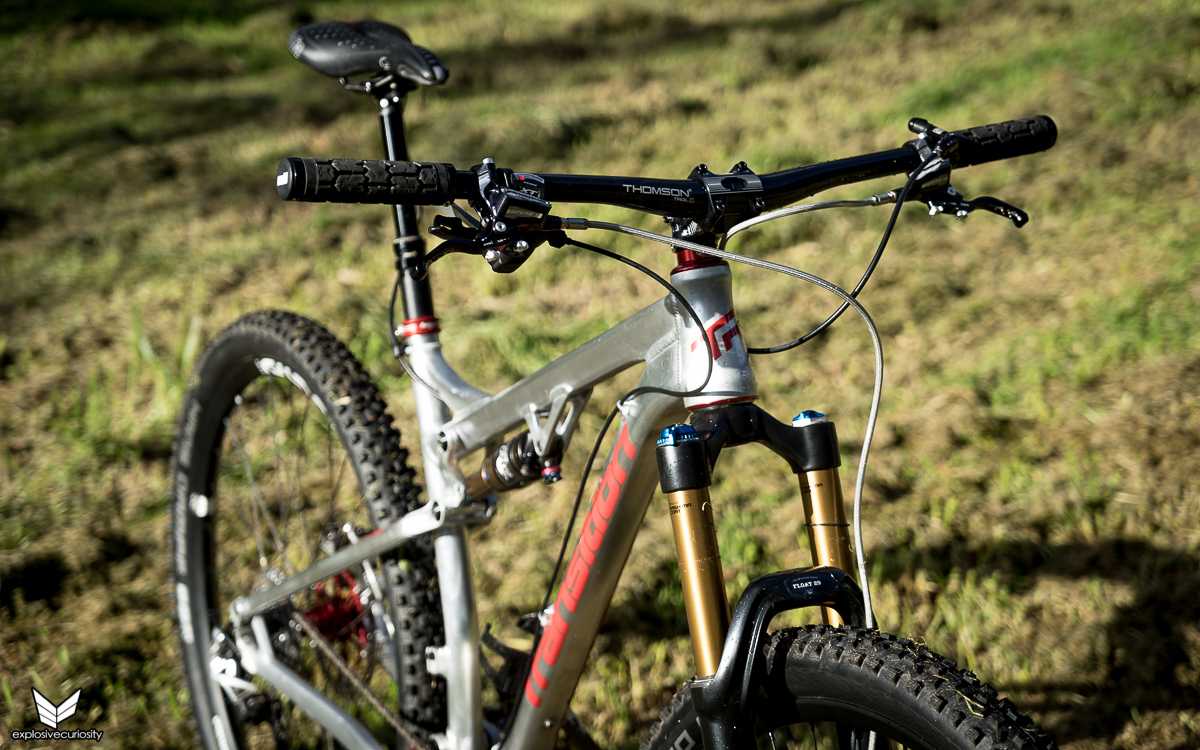 Final build spec…
Frame : 2012 Transition Bandit 29, 6061 aluminium, large, 130mm suspension travel
Fork : FOX 34 Float 29 FIT RLC 140mm with Kashima Coating
Shock : FOX Float RP23 with Kashima Coating
Rims : E-Thirteen TRS+
Hubs : HOPE Pro 2 Evo
Spokes & Nipples : DT Swiss
Tyres : Schwalbe Hans Dampf Evo TrailStar 29×2.35″
Tubes : Tioga 29×2.20/2.50
Brakes : HOPE Tech 3 V4 with Braided Lines
Rotors : HOPE Mono M4 Floating Rotors 203mm
Fixings : Clarks Anodised Rotor Bolts
Mounts : HOPE Front, Shimano Rear
Bars : Thomson Trail Carbon Fibre 750mm
Grips : ODI Rogue Lock-On
Stem : HOPE AM-FR 50mm
Headset : Chris King Inset Tapered NoThreadSet
Spacers : HOPE Space Doctor
Bottom Bracket : Chris King
Cranks : Shimano XT M785 170mm
Pedals : Shimano Saint MX80
Chainring : RaceFace Narrow Wide 32t
Chain : Shimano XT HG95
Cassette : Shimano XT M771 10 Speed 11-36t
Derailleur : Shimano XT M786 Shadow+ Medium Cage
Shifter : Shimano XT M780 Trigger Shift
Saddle : Selle Italia C2 Gel Flow
Seat Post : RockShox Reverb Dropper Post
Clamp : HOPE
Extras : Clarks Carbon Fibre Bottle Cage
Total Weight : 14.2kg
A huge thanks to the team at Bio-Mechanics Cycles and Repairs in Adelaide for helping out with this build. Without a doubt the best and friendliest bike shop in Adelaide. This is the second bike they've helped me build, the first being a Surly Long Haul Trucker which I built and then cycled 6,000km+ through the UK, Europe, the Middle East and Africa. But that's a story for another time.