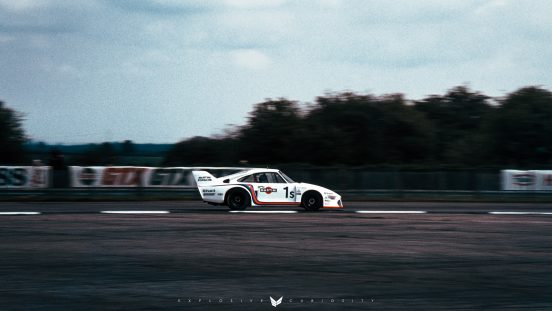 The iconic silhouette of a Porsche 935 in Martini livery.
Photographed here whilst competing in the Silverstone 6 Hour event, held on Sunday May 15th 1977. This Group 5 / DRM Martini Racing Porsche 935/77 dominated the race, winning by 3 laps at an average speed of 180.887kp/h (112.397mp/h). The duo of Jacky Ickx and Jochen Mass, both Formula 1 race winners, were responsible for bringing the car successfully across the finish line.
This car also won the Watkins Glen 6 Hour and Brand Hatch 6 Hour races in the same year with the winning combination of Jacky Ickx and Jochen Mass. The car, later piloted by Rolf Stommelen and Manfred Schurti, qualified 6th place for the 1977 Le Mans 24 Hours but unfortunately failed to finish the race due to engine troubles.
1977 Porsche 935/77 (Chassis #005) 'Works'
Type 930/77 B6, 1 of only 2 Works 935/77 cars built.
Fibreglass body over steel ladder frame.
2,867cc twin-turbocharged flat-6 engine.
Aluminium block and head.
2 valves per cylinder, SOHC
630bhp / 470kw @ 8,000rpm
588Nm / 434ft. lbs. @ 5,400rpm
970kg / 2,139lbs
Top speed 340km/h (211mp/h)
This car now resides in the Porsche Museum Germany wearing the number 41, its Le Mans 24 Hours race number.
Photographed by my Father.
📷 Pentax ME Super 35mm
🎞 Agfacolor 35mm Slide Film