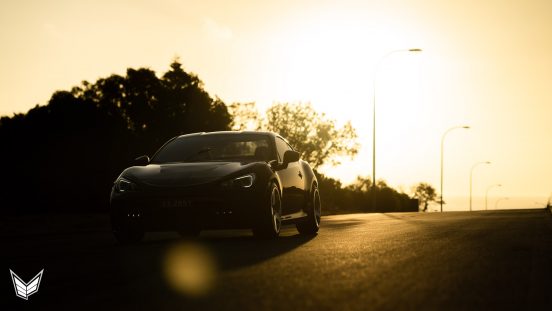 Immi's Subaru BRZ is super smooth. The clean and flowing lines from the Liberal Baruta body kit are subtle, yet powerful enough to make this car stand out from the crowd of GT86's and BRZ's getting around. I've not seen this body styling before, I really like it! Great to see something unique.
Complimenting the body kit is a vented Seibon carbon fibre bonnet. There's just something about carbon on a black car that really works, and this is perfect! Blacked out GT86 fender garnishes and a pair of Valenti Revo tail lights add the finishing touches to the body styling.
Immi specced this car with the optional STi Drivers Pack, which includes lowered coil springs front and rear, front strut brace, short shifter and front draw stiffener. A set of Rotiform NUE wheels wrapped in sticky Bridgestone RE003 make sure these handling upgrades are truly noticed. Stopping is taken care of with some WRX brake callipers, slotted rotors and braided lines. A Blitz NUR Spec exhaust and custom engine tune add some more power to the equation. All of this adds up to make this car an incredible drivers machine.